Important News.
Details

23

Jun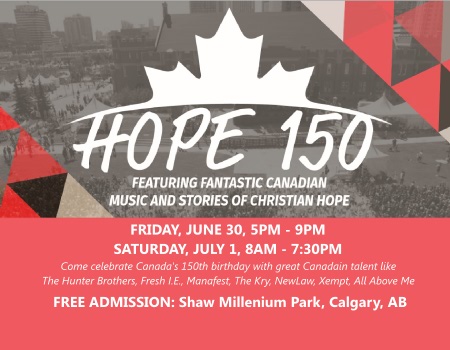 The Best Place to Celebrate Canada's 150th birthday — HOPE 150 in Calgary!
Where can you go on the Canada Day long weekend that has something for everyone — including a free pancake breakfast, stories of hope, activities for kids and performances from Juno-Award winning bands and artists?
Calgarians don't have to go far. On Friday evening and most of the day Saturday, a large, free, family and youth-oriented festival will take place at Shaw Millennium Park right off of 9th Avenue and 11 Street S.W.
HOPE150 will feature a 100 percent Canadian playlist highlighted by "Stories of Hope" from inspiring Canadians who have faced adversity, accomplished great feats, and overcome life's greatest problems. Organizers have invited musical groups from across the country to join several local bands. The producers are including different music genres at different times of the program. There will be something for everyone: families, children, adults, young adults, and teens. Those attending are encouraged to check out the full schedule on the HOPE150.ca website or on Facebook @CanadaHOPE150.
Where: Shaw Millennium Park, 1220 9th Avenue S.W., Calgary
When: Friday, June 30th from 5 p.m. - 9 p.m. AND Saturday, July 1st from 8 a.m. - 7:30 p.m.